Well the time is finally hear, the Scotiabank Toronto Waterfront Marathon (STWM), in this, it's 30th rendition. It will be a moment of triumph for some; for others, a day of reckoning, but for many who will be taking to the streets of Toronto, the day will be a celebration. To play tongue and cheek with the race's hashtag – it's truly your moment.
For the vast majority of runners taking to the streets of Toronto, their moment will revolve around personal bests, raising money for charities, or perhaps completing their first race. For a select few who will start the race however, they have been training for their whole careers for this moment: the chance at the Olympic Games and/or the chance at financial security from their profession for years to come.
Before I outline the elite athletes who are taking to the start, I should mention that STWM sports a Gold Label certification. What does this mean? It means it's one of the best races in the world and sports a fast course and a fast field. It also means that the top 5 in the race automatically achieve the Olympic standard.
Ah, the Olympic standard – every Canadian marathoners dream. So, how does one go about achieving this? Run the North News did a great analysis but essentially there are three ways:
Athletes must break the Olympic standard of 2:11:30. They must then be selected by Athletics Canada.
With Toronto Waterfront being a IAAF Gold Label race, anyone who finishes in the top 5 will be considered to have the Olympic standard (the same also applies for the Ottawa Marathon). They must then be selected by Athletics Canada.
Athletics Canada can put forward a list of athletes based on points, the IAAF will then select which athletes qualify based on the number of open spots. From what I can gather, points are accumulated based on time, position and prestige of the race.
*It should be noted that only two Canadians actually have the standard: Rachel Cliff (time) and Lyndsay Tessier (top 10 at Worlds).
Because of this battle for the Olympics, it will be likely that spectators along Toronto's streets will see a race within a race. The first race will be the East African challenge lead by two time STWM champion Philemon Rono (nickname: Baby Police).
The Canadian challenge is the deepest it has been in years, headlined this time, by the veterans of the sport: Malindi Elmore (scratch), Reid Coolsaet and Dylan Wykes facing the young challenge of Evan Esselink, Rory Linkletter, Tristan Woodfine and Kinsey Middleton. Alan Brookes has done a great job with this field.
Meet the Athletes
Let's meet the contenders shall we! And read to the bottom of the article for my predictions.
On the Canadian women's side, it should be one of the tightest races in years. Here are the notables:
Kinsey Middleton is based in Boise, Idaho, but has dawned the maple leaf many times before and is the defending champion. Last year, in her debut, Middleton ran a classy race defeating Leslie Sexton in a gutsy race and ran 2:32. This year Middleton will be putting her championship on the line and facing a tough field. Middleton showed fitness recently with a second place at the Eastside 10K. She did set a personal best in the Sun Run this year, running 32:46. Expect Middleton to be in the midst of it this year again.
Leslie Sexton had a marathon breakthrough this year in Prague, running 2:31 for a classy 8th place. Sexton has long been bordering on a break through and this result helped to vault her into the conversation for Tokyo 2020. In order to make the team Sexton will likely have to run faster than her personal best but she is still the class of this Canadian elite field. Expect her to dominate the Canadian race early. Since her marathon in Prague, she has only run race, finishing 3rd at the Eastside 10K.
Dayna Pidhoresky is a serial racer. This year alone, the Vancouver runner has run in 10 elite races with major results in each one. Of note, Pidhoresky finished 6th in the Ottawa Marathon (1st Canadian), 1st in the BMO Vancouver Half, 2nd in the Scotia Half, 2nd in the Canadian Half Championships and has made the rostrum in other races as well. She sports a marathon personal best of 2:36 but is well off her potential as a marathon athlete – I expect a big improvement in this number at STWM.
Tarah Korir is an interesting prospect and major wild card in this race because she hasn't (according to the IAAF) completed a major race since 2017 where she finished 51st in the world championships. We aren't really sure where her fitness is at, but one this is for sure – she is a fighter, so expect her to be there or thereabouts. Korir sports a marathon best of 2:36 and a half of 1:12.
Emily Setlack is also a very interesting name on this start list. STWM will be Setlack's 4th marathon, where she will be attempting to improve on her 2:35 from Rotterdam in the spring. Setlack recently ran 1:12 at the Philly half and finished an impressive 3rd Canadian at the Ottawa 10k. With her fitness clearly there, Setlack is certainly in the conversation.
I would be remiss if I didn't mention other Canadian notables: Kate Bazeley (2:39), Robyn Mildren, and Anne-Marie Comeau
Internationally, on the women's side, the field is deep but don't expect a course record. Here are the contenders:
Ruth Chebitok (Kenya) is a 2:23 marathoner and 1:09 half marathoner (set this year). She finished 10th in Tokyo in March and is looking to improve on her 3rd place Toronto performance from last year. In 2018, she also won the Barcelona Marathon and Gold Coast Marathon.
Birukatayit Eshetu (Ethiopia) is also a 2:23 performer with that best set in Houston this year, where she won. Her half marathon best dates back to a race in San Diego in 2017 where she ran 1:10. Her other results this year include an 8th place at the Boston Marathon. In 2018, she won Houston again, finished 2nd in Rotterdam and finished 4th in the Mexico Marathon.
Dibabe Kuma (Ethopia) is also a 2:23 performer, which she ran last year in Slovakia. She has also impressively run 1:06 for the half set this Spring. She won the Hamburg Marathon this April which was closely proceeded by the 1:06 run in Barcelona. Kuma's brother is also running (previewed below).
Magdelyne Masai (Kenya) is married to the famous running Kiwi, Jake Robertson, but that should not be why she is included in this preview. Instead, I should note that Masai is a 2:26 marathoner, a mark which she set in Hamburg this spring. Masai is targeting a 2:22 run in Toronto, a mark which nobody in the field has achieved. Her other notable run this year was at the Great North Run which she clocked 1:07 for an impressive second place. Last year, Masai won a marathon in China and a half marathon in Belfort, France.
Becky Wade (USA) was announced to the start list for STWM with great excitement as she preps for the USA Olympic Trials in Atlanta. Her marathon PB is 2:30, but more recently ran a 2:35 last year in London. Wade has also run a 1:11 for the half marathon. Just recently, Wade posted an impressive 2nd place at the Philly Half, won the FORTitude 10K in Colorado, and finished 17th at the 2019 Boston Marathon
Other notables include: Shuko Genemo (Ethopia), Birke Debele (Kenya), Gudeta Bekelech (Ethiopia), Etaferahu Temesgen (Ethiopia).
The Canadian men's challenge will be the best race to watch on the day. I expect a smashing race featuring the country's best distance runners. Here are some to watch:
Cam Levins is the Canadian marathon record holder and the defending Canadian champion; he is also a 2:09 marathoner. It is safe to say Levin's hasn't had the strongest of seasons. He was forced to withdraw from the London marathon with a calf problem, had decent races at some Canadian 10Ks, but was forced to drop out of the Philadelphia Half. Having said this, Levins did not have the best of seasons in 2018 before his impressive win and Canadian record.
Reid Coolsaet is the veteran of Canadian marathoning and has a personal best of 2:10. Coolsaet is perhaps running Toronto for the last time and is looking at one more Olympic birth. Coolsaet has had an interesting year to say the least – first by running a 2:17 in Ottawa (hot conditions) and then running a couple tough 10Ks in the summer. His fitness began to turn with an impressive Crim 10 Miler however, which lead into a good effort at the Philly half. Coolsaet hasn't run as fast as he would like for a couple of seasons but I expect a gritty performance from him. Coolsaet is a 17 time national champion.
Dylan Wykes has not run a marathon since 2012 (the Olympics, no big deal) and has since moved on to coaching, but after an amazing start to the season DW is back. Wykes finished 3rd at Around the Bay in March, 1st at the Canadian 10K Championships and 4th at the Canadian Half Championships despite laryngitis. Wykes noted he plans to start at 2:14/2:15 pace and pick guys off along the way – but 2:13 is definitely in the wheelhouse. Wykes is also the founder of Mile2Marathon. Wykes personal best for the marathon is also in the 2:10s.
Tristian Woodfine is perhaps the least known guy to take toe the line in Toronto, and according to many elites the man to watch. He set his marathon personal best in Houston this January running 2:15 and followed up to win the Canadian half championships in 1:04. I also expect Woodfine to show up big time at the race (see below in the prediction section for how big). Watch out for this guy.
Evan Esselink is making his debut marathon at STWM and this debut is highly anticipated. For years Esselink has been one of the top up-and-comers on the Canadian running scene and he showed us his talent at the Houston Half Marathon in January running 62 minutes. Esselink will be another contender in this race and certainly has the firepower to achieve that Olympic standard. Esselink has had a good year in addition to his race in Houston. He finished 2nd at the Edmonton 10K, won the Edmonton half, and won the Eastside 10K in Vancouver.
https://www.instagram.com/p/B1zdJuIHoF9/
Rory Linkletter is also making his debut marathon. After a stellar track career at BYU which led to a 2nd place in the NCAA 10,000m championships, Linkletter has turned pro and joined the Northern Arizona Elite group. When I asked Linkletter about his plans for STWM, he noted he will be aiming for about 2:13 or 2:14 but believes he can be an Olympic marathoner – as he certainly has the passion to be. The one question surrounding his performance will be whether his young legs have matured for the marathon, but one this is for sure – Linkletter will be in the mix.
I would be remiss if I didn't mention other Canadian notables: Trevor Hofbauer, Chris Balestrini, Kevin Coffey, Aaron Cooper, Thomas Toth. Hofbauer, Balestrini and Coffey can certainly mix it up in the 2:13 range.
The Canadian men will take on these very elite East African challengers. Here are a few of the big names:
Benson Kipruto (Kenya) is the defending champion at STWM after just missing the course record last year. Kipruto has no personal bests at distances shorter than the half marathon where he sports personal best of 2:07 (marathon) and 1:04 (half). Kipruto only has one race registered this season where he finished 10th in Boston. His most notable result in 2018 was the win in Toronto.
Philemon Rono (Kenya) is a two-time champion at STWM and a 2:06 marathoner. He also owns the course record in Toronto. Nicknamed Baby Police, Rono is back after a less than impressive showing last year where he and former Olympic Champion, Stephen Kiprotich, both had tough races. This year, Rono got the better of Benson Kipruto at Boston where he finished 6th, but Rono also recently ran a 1:01 half marathon in France, which only gave him 12th place! Rono has a half personal best of 60 minutes.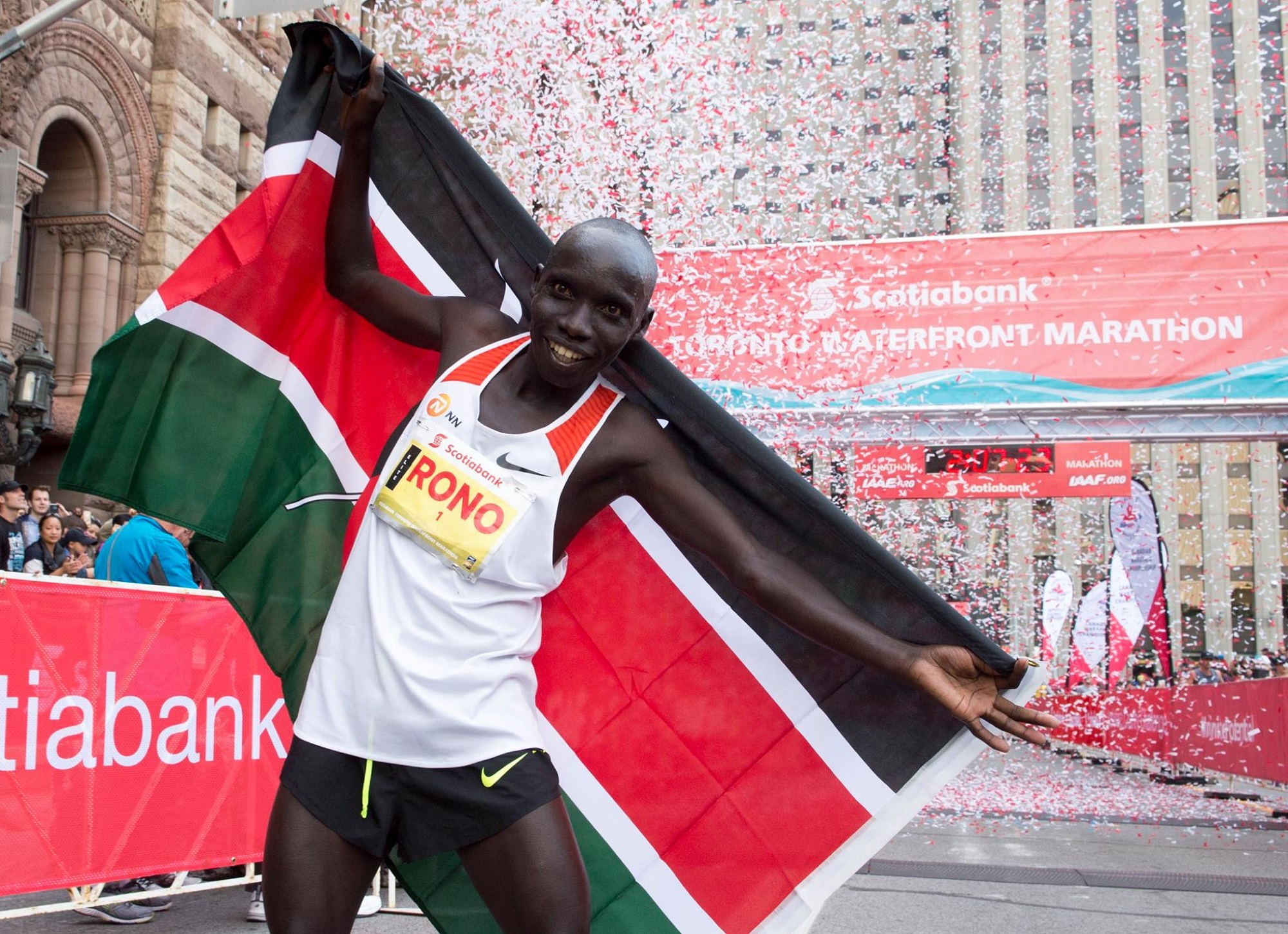 Lemi Berhanu (Ethiopia) is a former Boston Marathon champion and is a 2:04 marathoner; however, Berhanu failed to finish Boston this spring. He has also finished 4th at New York. His personal best from Dubai places him as the fastest runner in the field but he has failed to run near that time since 2016. In 2016, Berhanu represented Ethiopia at the Olympics.
Abera Kuma (Ethiopia) is a 2:05 marathoner and will certainly be up for this race. Kuma set his personal best in Rotterdam last year where he finished 2nd. Kuma also finished 2nd this year at the Ottawa marathon in tough conditions. Recently, Kuma ran a 1:01 half in Lille, France. Kuma's sister is also running in the race (previewed above).
Festus Talam (Kenya) is a 2:06 marathoner, a mark that her ran in Eindhoven, Netherlands in 2017. He is also a 60 minute half marathoner. Talam finished 9th in Boston this spring for his only result of 2019. In 2018, he finished 8th in New York so knows the North American circuit well. In 2017, Talam won his race in Eindhoven and finished 4th in Rotterdam.
Other notables include : Tsedat Ayana (Ethiopia), Abdi Ibrahim Abdo (Bahrain), Silas Mwetich (Kenya), Felix Chemonges (Uganda), Juan Luis Barrios (Mexico), Josh Griffiths (Great Britain).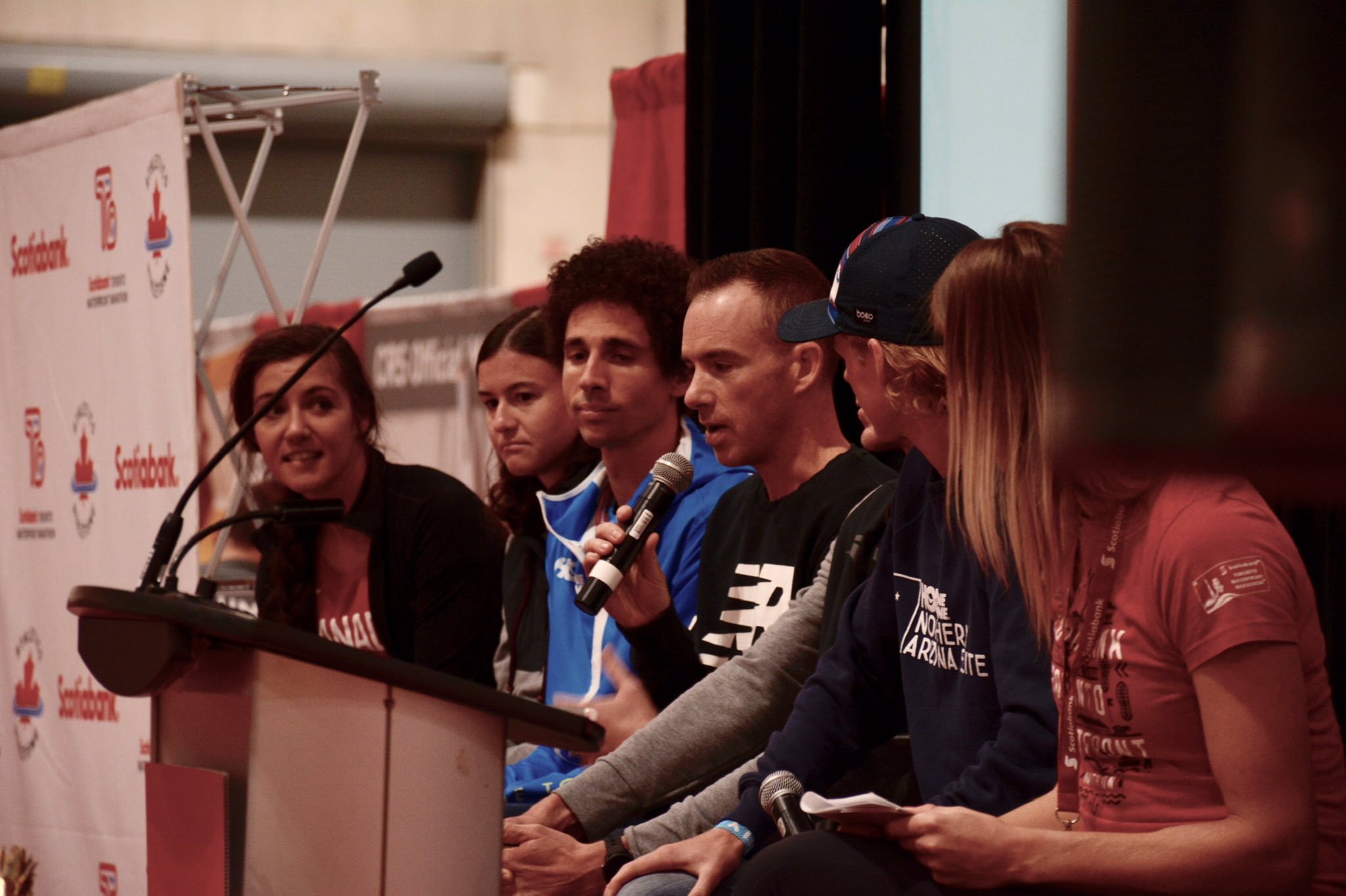 My Predictions – Canadian Championships
Pidhoresky – will run huge personal best and win; will run 2:31
Sexton – will run just shy of personal best; 2:31
Middleton – will put up a worthy defence but will get bested by the experience; will run 2:32
Setlack – will achieve a personal best; will run 2:33
Kate Bazeley – the mother of three will impress; will run 2:35
Dark Horse: Emily Setlack
Woodfine – coming in under the radar; will run 2:11
Levins – most talent in the field but has struggled in races this year; will run 2:11.
Esselink – debut marathon but will be in the mix; will run 2:12.
Coolsaet – aiming for 2:13 but will turn back the clock; will run 2:12.
Linkletter – will go out with Coolsaet and will hit is goal; will run 2:13.
Dark Horse: Dylan Wykes
Predictions: International Athletes
Rono – will reclaim the crown and set the course record bolstered by Kipchoge; will run 2:05
Kuma – will challenge to the end but fall just short; will run 2:06
Kipruto – will also challenge late but will relinquish title; will run 2:06
Ayana – although I didn't preview him, will run well; will run 2:08
Talam – will run well and finish but will be in a battle for minor places; will run 2:09
Dark Horse: Cam Levins
Masai – continue momentum after Great North Run; will run goal time of 2:22
Kuma – will get a personal best, but fall just short; will run 2:22
Chebitok – will round out the podium and run 2:25
Eshetu – will run turn back the clock early but falter late; will run 2:26
Wade – will run a personal best and continue Philly momentum; will run 2:28
Dark Horse: Etaferahu Temesgen
---
Thanks for reading.
I want you to join the conversation. Put your predictions in the comments below or tweet them to me @AndersenRuns.