Its kind of poetic, is it not? Well… as poetic as a marathon can be.
In 2011, Reid Coolsaet, Eric Gillis, Dylan Wykes, Rob Watson and others took to Toronto's streets looking to qualify for the London 2012 Olympic Marathon. Two of them secured their ticket to the Games that day, battling through the tough winds, trip-ups, and that legendary overpass at 38k.
No one will ever forget Eric Gillis sneaking under the Olympic A standard by one second or Reid Coolsaet running in the lead pack for the entire race just missing the Canadian record. Dylan Wykes, who finished as the third Canadian in 2011 and finished 6th overall, made his Olympic dream come true in 2012, qualifying at the Rotterdam Marathon despite falling flat on his face at the start. Although Rob Watson would not finish the 2011 race, he would go on to represent Canada at Worlds, Pan-Ams and run 2:13 for the marathon.
On October 20th, two out of four of these athletes will take to Toronto's streets again – eight years later.
A lot can happen in eight years: Prince George was born, Ed Snowden leaked U.S. intelligence, the Russia annexed Crimea, the Raptors won the NBA Championship, Canadians elected their first Green MP, Cuba and the U.S. resumed relations, Canada turned 150, and of course, the Maple Leafs made the playoffs (multiple times!).
When Coolsaet and Wykes take to the line for the 2019 Scotiabank Toronto Waterfront Marathon (STWM), I am sure they will reflect on the changes in their lives as well. Reid has shaved off the mustache, got married, and had two kids: Louis and Elodie. Wykes also has been married, started a small business Mile2Marathon (which you should definitely check out), and has two kids: Spencer and Sasha.
So what should we expect from these Canadian legends?
For Reid Coolsaet, I think he has the best chance of the three to qualify for Tokyo 2020, and I can say with some certainty that STWM will not be his final race – he will give it another crack in the spring regardless. From talking to him, he thinks a 2:13 clocking will provide him an opportunity to make the Canadian team on points. Regardless of time, Coolsaet rightfully reminded me that the marathon is ultimately about the process. "I want to run to my potential and be happy with my effort, he said. It would mean a lot to have a marathon performance I'm really excited about as it's been a few years since that has happened."
So why STWM for Coolsaet? "I've had success at STWM in the past and I know the course really well. It's hard to pass up a Gold Label race in your backyard. And the obvious reason is that the Canadian Champ gets a big advantage when it comes to Olympic selection."
On racing with Wykes again, Coolsaet says that they will help boost his attitude and help him reflect on his previous marathons: "We've shared so many running experiences over the years it will be great to add another one. Both Dylan and Rob [Rob Watson recently dropped out of the race] are fun guys to be around and add positivity to an event."
As arguably Canada's best marathon runner ever, don't sleep on Reid, he will be in the thick of it come race day. You can follow his training on Strava.
Dylan Wykes is a 2:10 marathoner and the fourth fastest Canadian of all time. His last marathon finish was when he placed a very impressive 20th place at London 2012. Wykes is keeping expectations low heading into STWM, but he still feels like he "has something to prove" with the marathon. "I really just want to finish this marathon," he told me. "But if I am being greedy, I'd love to finish top 3."
Wykes is a co-founder of the running group Mile2Marathon and was essentially retired until earlier this year. Since March 2019 however, Wykes' record has been impressive. He finished 3rd at Around the Bay, won the Ottawa Sporting Life 10k, won the Canadian 10k Championships, and finished 4th at the Canadian Half Marathon Champs. He said that these results helped to push him towards taking the start line in Toronto: "I wanted to carry that momentum into the fall and trying the marathon again made sense. … I'm more excited about racing for place than chasing a time at this stage of the game."
On racing with Coolsaet again, Wykes is excited: "It'll be great to have some old friends and familiar faces in the race. If we find ourselves near to each other when the going gets tough in the late stages of the race I'm sure we'll work hard to pull/push each other along."
Wykes is the true wildcard at this year's edition of the race and could turn back the clock. You can follow his training on Strava.
No matter what they say pre-race however, the Olympics always find a way of getting into the back of athlete's and athletics commentator's minds. On route or the night before, all will be calculating what it will take for them to get to Tokyo 2020. So, how do they qualify? Run the North News did an amazing breakdown of this system, but essentially, there are three ways.
Time. Athletes must break the Olympic standard of 2:11:30. They must then be selected by Athletics Canada.
Placing. With Toronto Waterfront being a IAAF Gold Label race, anyone who finishes in the top 5 will be considered to have the Olympic standard (the same also applies for the Ottawa Marathon). They must then be selected by Athletics Canada.
Points. Athletics Canada can put forward a list of athletes based on points, the IAAF will then select which athletes qualify based on the number of open spots. From what I can gather, points are accumulated based on time and position. Coolsaet, as previously mentioned, has noted that he thinks 2:13 will give him enough points to get in, but who knows.
The winner of the Canadian Championship at STWM will be granted automatic selection to the Tokyo team (provided they have the standard).
Whatever the result, it is clear that Coolsaet, Wykes, Watson and Gillis (retired) have inspired and lead the charge for a new level and era of distance running in Canada. In 2012, they represented the first Canadians in the Olympic marathon since 2000 and posed the greatest threat to the Canadian record since it was set. In their wake have been kids, now growing into mature elite athletes, chomping at the bit to compete with these Canadian legends. Notably, they helped usher in an era where distance running for a profession is viable, and with that, helped spawn the growth of STWM and the new Canadian record holder Cam Levins. I believe Evan Esselink, Tristain Woodfine, Trevor Hofbauer, Chris Balestrini, Rory Linkletter, and many other Canadian men now taking a shot at the marathon and a possible Olympic birth can thank Coolsaet, Wykes, Watson and Gillis for blazing a trail, for creating opportunities in the marathon, and for putting Canadian running back on the map.
When asked about it Coolsaet and Wykes each had a different take on the title of role model. Coolsaet has had to embrace much of the limelight over the past decade and is happy that more Canadians are giving the marathon a chance: "It feels good knowing that I might encourage up-and-comers to shoot for elite performances." He added that he "hopes young runners can see that they don't need to be a high-school star to do well in University and beyond. Even in University I don't think many would have pegged me as a future Olympian."
Wykes told me that: "I'm excited to see a new crop of Canadian's giving the marathon a go. I've no idea if any of these guys or woman would consider me a mentor or role model or an inspiration. I'm just happy to see some people chasing the dream; making sacrifices and decisions to be better runners. I hope it pays off for them."
Like many in sports history, their records and achievements are made to be broken, made to be improved upon, and made to create an avenue for others to succeed. It is likely that this is the last time these Canadian running legends will take to the streets of Toronto for STWM with hopes of a high finish regardless of the outcome of this race.
In 2011, the story for Coolsaet, Watson and Wykes was just beginning – the canvass was blank.
In 2019, the script is all but written. Still, one chapter remains – can Coolsaet gain one more Olympic birth? Can Wykes recapture the glory from the spring?
What we do know is the legends will showdown on the streets of Toronto one last time.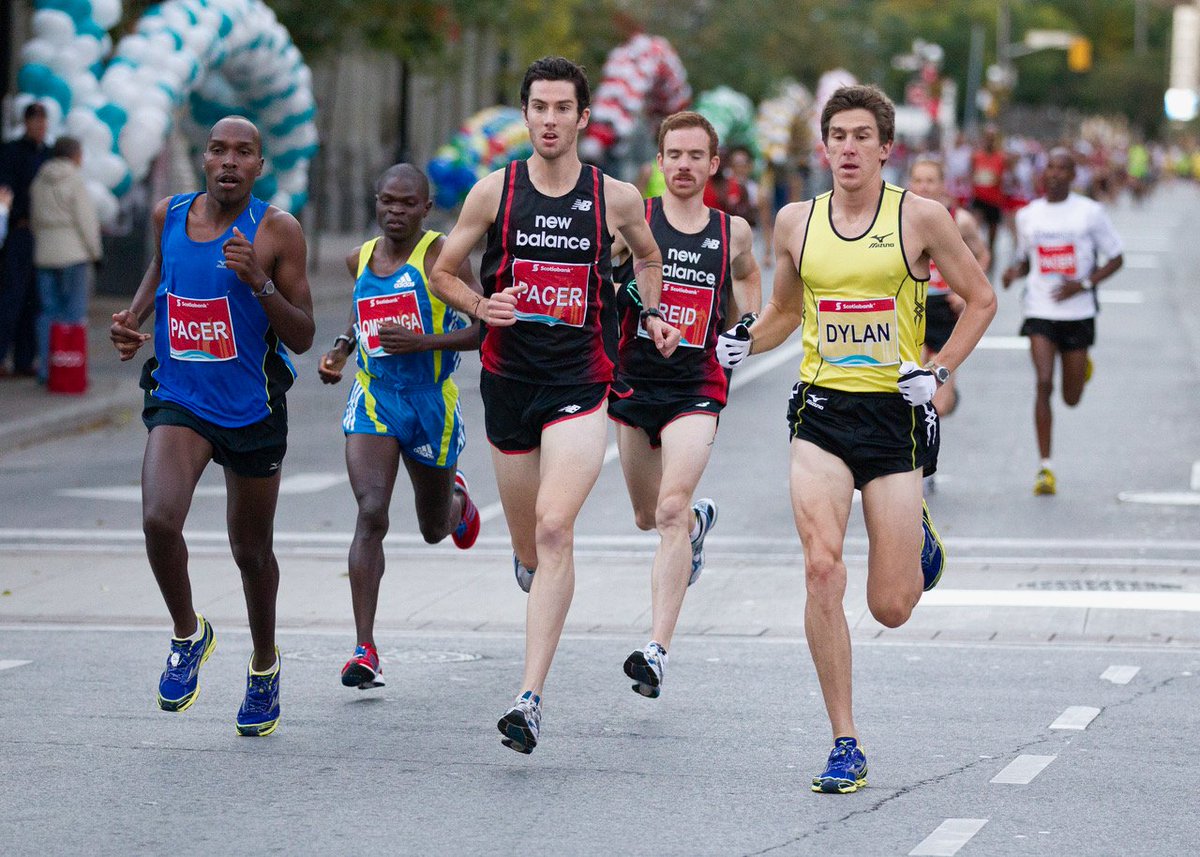 ---
Thanks for reading.
This is the first article in my STWM series. Stay tuned over the coming weeks for more. If you have other topics you would like to know more about related to the race, the elites, or more- please let me know.
If you like what you read, please follow me on Instagram, Twitter and Strava for more!