It is 2017 at the NCAA 10,000m Championships.
24 competitors locate their toes just behind the starting line – the beginning of a 25 lap saga.
The start list is deep, out of hundreds of college students across the country it is down to them – 24 guys from schools across the country.
But to Canadian running fans, one guy stands out.
A hush. A deep breath. And bang. The race begins.
Canadian fans keep their eyes fixed on their prospect. They watch as his blonde hair bops around – this time, not held in place by his signature bandana.
As they hit five kilometres in 14:58 (fast for us mortals, slow for these elite college athletes), the television coverage cuts away.
Pictures only return with one kilometre to go. By now the pace is hot, the pre-race favourite, struggling. With two laps to go, divisions become apparent. With one to go, it appears as though the podium is decided.
All of a sudden, the gap is closed by a sophomore – a name that the commentators have not mentioned for the entire race. Although first place is out of reach, the BYU man crosses the line for second, running the fastest closing lap in the field – a remarkable run for the Calgary native.
The commentators finally mention his name: "And it is Rory Linkletter for second."
Turning Professional
Fast forward two and a half years later, and Rory Linkletter is making his marathon debut. But since his second place at the NCAA Championships in 2017, it has been a long road. Linkletter has battled the elements, graduated from college, and has turned professional. Still he looks back at this 2017 race as career changing, Linkletter told me that the "race opened a lot of doors and possibilities in my mind for where the sport could potentially take me."
Rory Linkletter's 2019 has been a year of change. He started the year training for the tough course at the World Cross Country Championships in Denmark where he finished 82nd. He then moved onto the track where he ran 28:12 at Payton Jordan and then won the NCAA's preliminary round. Poised to have a great race at the NCAA Championship and improve on his second place in 2017, Linkletter had a difficult race. He bounced back a couple weeks later with a 3rd place at the Canadian 10,000m Championships – clocking a full minute faster than his race a week earlier. In August, Linkletter sported the Canadian singlet for the second time this year, finishing 6th at the Pan American Games 10,000.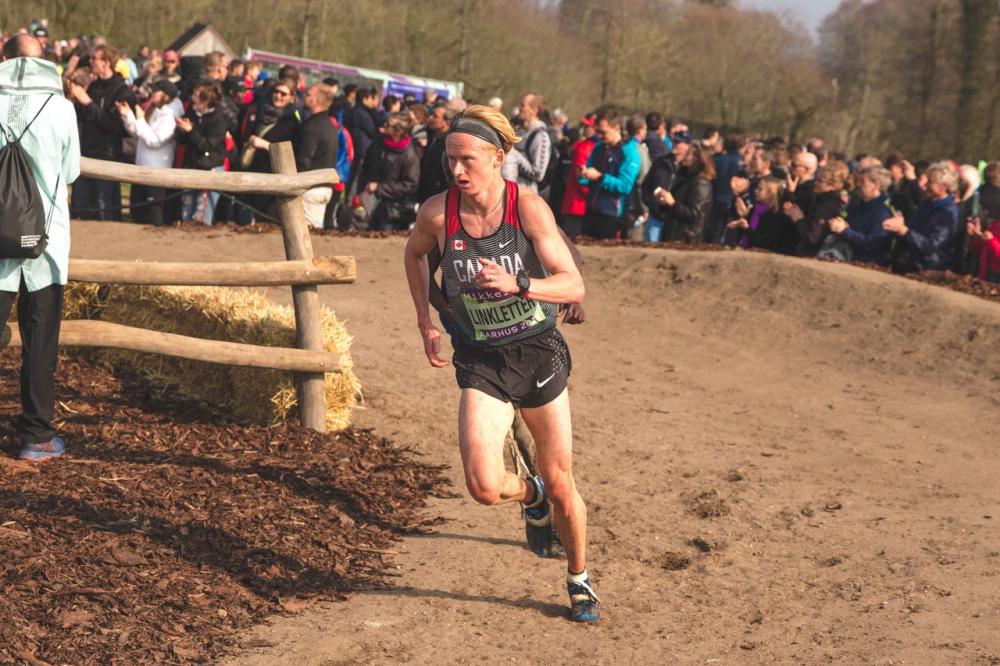 Outside of racing, Linkletter has made changes to his training too. After graduating from BYU in Utah, he moved to Flagstaff, Arizona where he joined the Hoke NAZ Elite crew. For those of you who have heard that name before, it is because Scott Fauble sub-2:10 marathoner and standout at this year's Boston Marathon also trains with the group. When I asked about his decision, he noted that he "relocated because I took the idea of being a professional runner quite serious. I want to be a professional in all aspects, location, environment, training and team. Flagstaff and Hoka NAZ elite have provided me with that exact opportunity. Utah is an amazing place but doesn't offer the same amount of opportunity."
STWM
Linkletter is changing his distance, too. Last month he announced his next challenge will be his debut marathon.
My immediate reaction to him trying the marathon this year was surprise. Few Canadians graduate from college and vault immediately into Athletics' longest distance. Recent notable graduates including Knight, Ahmed, Levins, and Flanagan have chosen to stay on the track before moving to the roads (if at all).
So why the marathon for Linkletter? He told me that he simply "wants to run one" and that the "event has always intrigued me [him]." Similar to many other Canadians, the Olympics were also a motivating factor: "I want to be an Olympian next summer and I believe the marathon offers me a great opportunity to do just that."
The desire to make the Olympics made the decision to come to Toronto a no brainer. Linkletter added that the new qualification method as a key factor: "With the current ranking systems in place it makes the most sense to compete in your national championships and try to run fast in those races."
He added that: "I have always wanted to debut my marathon on Canadian soil."
In terms of his goals for the race, Linkletter is preaching that he wants to experience the process and the distance noting that he "wants to conquer the distance physically and mentally. To me doing so would be running the pace in which my training has prepared me to do and being unrelenting when the race gets tough as we all know it will!" As for a time goal, Linkletter is "ready for something in the ball park of 2:14 if conditions are fair."
Then, Linkletter exclaimed, "I believe if I can do this, I will run well enough to be an Olympic caliber marathoner."
As many of you will know, the marathon is not an easy race to conquer. For many people it will be the hardest thing they ever do; for others it symbolizes their ability to conquer obstacles and for some, it proves to be a bridge too far. Linkletter understands that the race will get tough but he is "pleased with how the body has responded so far." In training with Fauble and co., Linkletter mentioned that he has learned a lot during his first crack at marathon training, but ultimately that "the important piece is quite simple. Become very good and efficient at running at marathon effort on tired legs."
Proud to Wear the Maple Leaf
As I mentioned, Linkletter has sported the Maple Leaf on a couple of occasions this year – once at World Cross Country, and again at the Pan Am Games. When I asked what representing Canada meant to him, he was very passionate: "Running with the maple leaf means everything to me. Although I've been in the US for quite some time, my identity as a person lies heavily on being proud of my Canadian roots. I don't take it lightly when given the chance to represent the country and have high hopes to do some memorable things on the international level with the Maple Leaf on my chest!"
Since Linkletter has trained in the United States for his whole career and ran in the NCAAs, Canadian fans may not know a lot about him. As thousands of fans will be cheering him and the other Canadian elites on during STWM, Linkletter would like them to know that he's "proud that to represent this country and looks forward to racing in Canada more and becoming more familiar to them in the coming years." He added: "I love to compete, and I look forward to earning their respect with my performance."
Expect a solid debut from Rory Linkletter on October 20th at the Scotiabank Toronto Waterfront Marathon. You can follow his training on Strava.
---
Thanks for reading.
This is the second article in my STWM preview series. The first was on Dylan Wykes and Reid Coolsaet returning to the race.
More exciting articles to come in the coming weeks!
To see more please follow me on Twitter, Instagram and Strava.