Immediately following the U.S. Olympic Trials, I released a quick review where I discussed the race briefly and then provided readers with a brief overview of the resumes and stories of the athletes who made the team. You can read that here. Upon reflection however, I noted that as big of a deal as this was for American distance running, it deserved some more reflection than a mere retelling and synopsis of the event itself.
I should say before I get into my five takeaways that this is probably one of the best running events I have ever watched on television. It ranks up there with the men's 5,000M and women's 1,500M finals in Doha last year, the 2018 Boston Marathon and the London 2012 Olympic Games marathon. Like the this year's Trials, all four races had suspense, intrigue, and no pacers.
Having watched all the pre-race interviews, having made my predictions and having finished my morning long run, I sat down to watch the race half an hour early – waiting in anticipation for it to begin. My immediate takeaway was the blustery conditions where I thought "no one is going to break away until three miles to go with winds this high." Like my predictions, I was wrong once again – multiple breakaways occurred in the men's race, with Rupp making what became the winning move at 14 miles.
My next thought was regarding the women's race and the sheer number of athletes that were involved. Although I knew five hundred plus athletes would look like a large number, it was far larger than I expected. A sea of humanity raced down the streets of Atlanta in what Tim Hutchings would call "a festival of distance running."
But more often than not I found my thoughts drifting to two topics: shoes (which I will actually cover in my takeaways) and the NBC broadcast. Not that NBC did a horrible job, but for the amount of discussion and intrigue that surrounded the women's race; the race itself it got comparably little coverage to the men's. In addition, Deena Kastor was a wasted talent on the lead car and should have been one of the colour commentators in the booth – not the NIKE VP of Marketing. Shalane Flanagan would have been a great addition to the broadcast too. Also so many commercials – but that is unavoidable.
What I did love however, is the heart and sole racing that every athlete put into their race. Whether they were at the front or the back of the pack, each athlete was clearly there with a goal in mind and proud to represent their country – making me wish we could have an event like this in Canada.
Having now provided you with bonus takeaways, here are my actual five takeaways:
1. We need more Championship courses like the one in Atlanta
As fun as Berlin, Chicago and Tokyo are, there is nothing like a Championship race where it is the athletes against one another with no pacers to hold their hands. As cool as times in the low two hours are; hills, winds, and multiple turns add to the intrigue of a marathon where a chaser can hunt down the race leader or athletes are forced to embrace all types of terrain. ack theDespite some of the fl course in Atlanta is taking, I have to say I loved it. The hills added to the intrigue of the racing and added an additional layer of uncertainty that the traditional big city marathons do not have.
2. The women's marathon is deeper than ever.
Honestly, I had never heard of Molly Seidel until about mile four when I saw her bib towards the front of the pack and started learning more about her. Seidel, like so many other women in the field, have interesting and epic stories about how they qualified for the Trials, how they got into running and so on. For Seidel it is her injury history, the fact that she is very open about a previous eating disorder and how this was her first marathon. Seidel is active on Strava and worth a follow.
What is clear is how deep women's distance running is in North America. Usually, I only focus on Canadian distance running; where the Canadian women have dropped the Canadian marathon record by four minutes in two years, but it is worth noting that the women's field in the U.S. is rapidly improving too. At mile 18, about twenty women still had a shot at making the top three and going to Tokyo. Four years ago, the places on the Olympic team were already set at about mile 18 as Flanagan, Cragg and Linden had separated themselves from the pack.
This depth spells good things for women's running. Not only are more athletes in with a chance than ever before creating a more intriguing race, but it also gives young athletes everywhere with additional role models to follow and to aspire to. Of course it also importantly provides women's distance running with the media intrigue and coverage it deserves.
3. Northern Arizona Elite are here in force.
If you haven't heard of them before, you certainly know them now. The Northern Arizona Elite (or NAZ Elite) are a group of about twelve elite distance runners and are headed by coaches Ben Rosario and Ben Bruce. The group, sponsored by HOKA, features Canadian athlete Rory Linkletter and had six athletes in the Trials.
If you didn't know, the winner of the women's race Aliphine Tuliamuk runs for the NAZ Elite squad along with 6th place finisher Stephanie Bruce and 8th place finisher Kellyn Taylor. On the men's side, three athletes also toed the start with notable Scott Fauble finishing 12 place, despite running a great time of 2:12.
The NAZ Elite squad notched there very first Olympic spot with Aliphine Tuliamuk's performance and are looking forward to Bruce, Taylor and maybe even more running in the Track Trials. Of course Matthew Robert Baxter (NZ) and Rory Linkletter (CAN) also have great Olympic potential on the track.
NAZ elite are very open about how they train and post all their workouts online. You can learn more on their website.
4. Alphafly shoes will continue to spark debate.
Well I was wrong: I thought the other shoe companies had almost caught up to NIKE and their shoe revolution. Apparently not.
The Nike Alphafly Next% athletes were out in full force during the Trials with at least 50% of the athletes sporting some version of the Vaporfly. By my count, eight of the first ten in the men's race were wearing some version of the shoe with Galen Rupp leading the way. Of course, this is not me slamming the athletes but wondering when the shoe wars will end and some sort of calm will return to the waters.
Of course, one could counter my argument and say that on the women's side only Kipyego was the only runner in the top 8 wearing the shoes. In response, I would say that this is because 90% of the top female runners in the race are sponsored by companies like Saucony (Endorphin Pro for the win), HOKA, Asics or New Balance so it was mathematically likely that this would be the result – especially with Jordan Hasay's injury struggles.
If you watched the broadcast you would have seen the debate on the shoes themselves where the Hutchings and the Nike VP guy (I don't know his name) took opposing views on the subject. I think ultimately, the solution is somewhere in between their two view points where the other companies will catch up, but in order to do so World Athletics has to stop colluding with Nike (see new shoe rules release and the Alphafly specs).
5. 40 is the new 30.
In the men's race Rupp crossed the line first – as expected. Then Jake Riley, not totally unexpected as he ran 2:10 last year. Sprinting just behind Riley was Abdi Abdirahman. Known as Abdi, Abdirahman is 43 years old and the oldest competitor ever to qualify for the U.S. Olympic Marathon Team. His performance, granted shoe aided, was phenomenal and he truly showed his experience.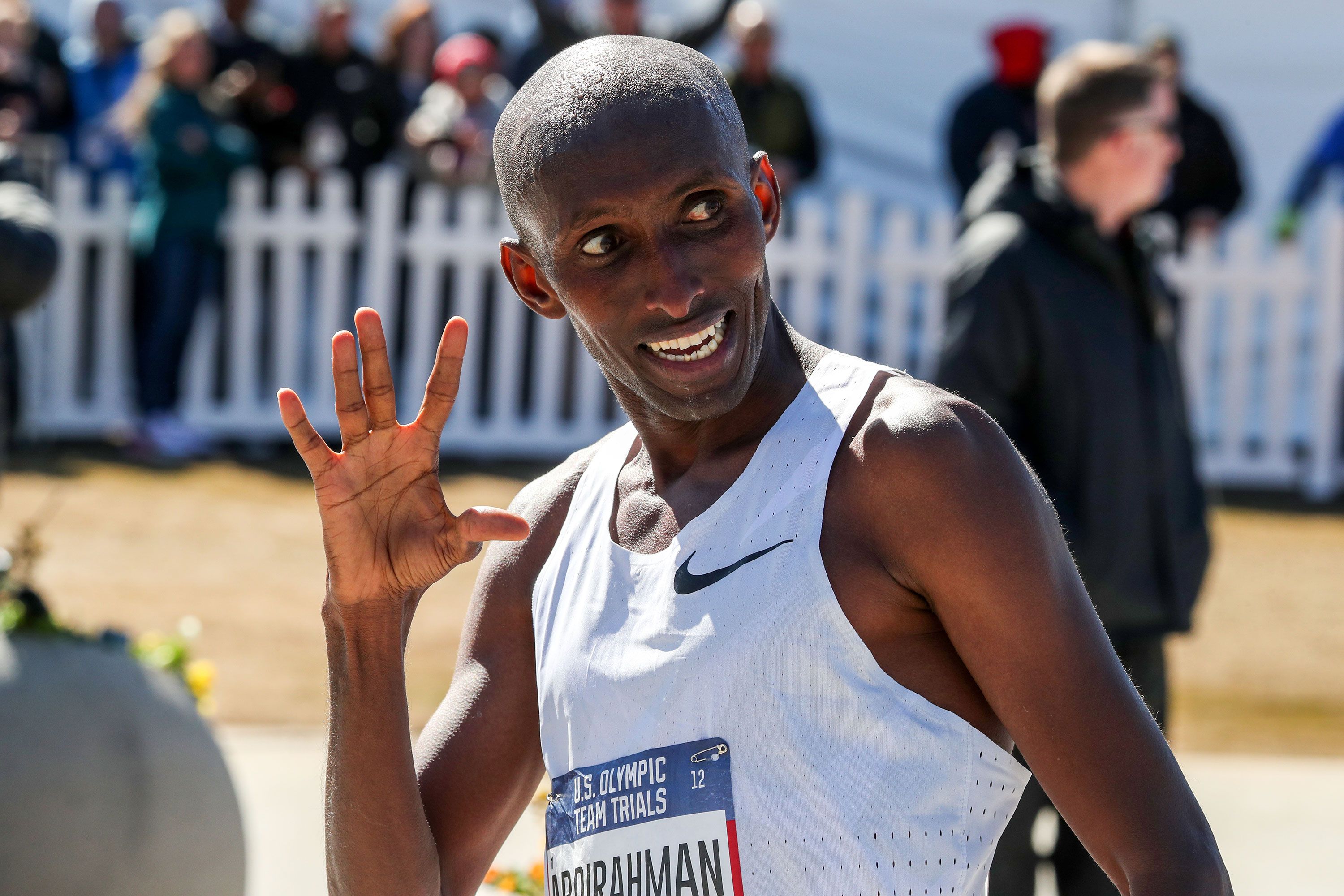 I have to admit, when Abdi took the lead early, I said "what the heck is he doing in this wind," but after seeing the race and hearing the commentary from Jared Ward on how the pack was functioning it made sense: Abdi was simply staying out of trouble. While other runners were using mental energy to stay in the pack or chopping their strides short to avoid tripping, or in some cases actually tripping, Abdi was out front just running.
The fact that he ran 2:10 though is something else. Abdi was only one minute and seven seconds off his previous personal best, proving that age is truly only a number.
In addition to Abdi, Bernard Lagat also had a decent race, finishing 18th overall at the age of 45.
Perhaps this gives hope to Canada's Coolsaet (40) and Duchene (43) as they look to return to their third and second Olympics, respectively.
---
Thanks for reading. For more takes and to stay up-to-date on my articles follow me on Twitter @AndersenRuns.