The fields are deep. The course is hilly. The drama is real.
Welcome to the U.S. Olympic Marathon Trials.
On February 29, 2020, hundreds of elite runners will take to the streets of Atlanta Georgia. For many, this marks the end of the journey – the journey to prove they are among the best in American distance running. For others, this is only the start or a chapter of their journey with the goal of qualifying for the Tokyo 2020 Olympic Games.
As a Canadian, the U.S. Olympic Trials are the purest form of racing there is: no pacemakers, tangent line, no East African pack far ahead of the domestic race. In these trials, there is one goal – to finish in the top three spots. Beyond the racing, the best part about the trials is that everyone in North America will be able to watch it live on NBC beginning at 12 PM ET on the Leap Day, no VPN (if you have cable) necessary.
The Contenders
For the women's race, even with the recent withdrawal of defending champion Amy Cragg, this line up is the deepest in recent memory. Among the major contenders there are serious question marks, gritty competitors and those who are unproven in a trials format.
Topping the list for the women's side has to be Desiree Linden. Linden's resume is pretty well known (for obvious reasons) but a few highlights include her 2nd place at the Trials in 2016, a 7th place at the Rio 2016 Olympics, 4th place at the 2017 Boston Marathon, and finally, her epic win at the 2018 Boston Marathon. Linden's personal best is 2:22. Between her experience and grit, Linden is a hard athlete to bet against.
Sarah Hall is another contender who is not getting a lot of press headed into the Trials, but she should be. In stark contrast to Cragg, Hall has raced A LOT in the last year or so, all with the goal of making her first Olympic team. Her notable marathon results include a 5th place in Berlin 2019 and a 3rd place in Ottawa 2018. Recently, Hall also set her half marathon personal best in Houston running 1:08. Her marathon personal best is 2:22. Hall is tough, an element which will come in handy on the hills.
Molly Huddle has won so many American titles, I have lost count, but I would argue that she has not quite mastered the marathon distance. Huddle could finally breakthrough at this year's Olympic Trials. Huddle's recent marathon results include a 12th place finish in London 2019 and a 4th place in New York 2018. Sporting a personal best of 2:26, Huddle will be well placed to compete in the Trials as it is a non-paced affair. With a half marathon personal best of 1:07 and a 5,000 personal best of 14:42, Huddle's speed could certainly be a factor.
With new coach Paula Radcliffe to guide her, Jordan Hasay will be hoping her injury bug disappears at for the Trials this year. If she is healthy, it will be difficult to stop who many are calling, the class of the field. Hasay has a short but successful history with the marathon including a 3rd place at Boston in 2017, a 3rd place at Chicago in 2017, and another 3rd place at Boston in 2019. Her personal best is 2:20 and barring injury she would likely have the American record by now.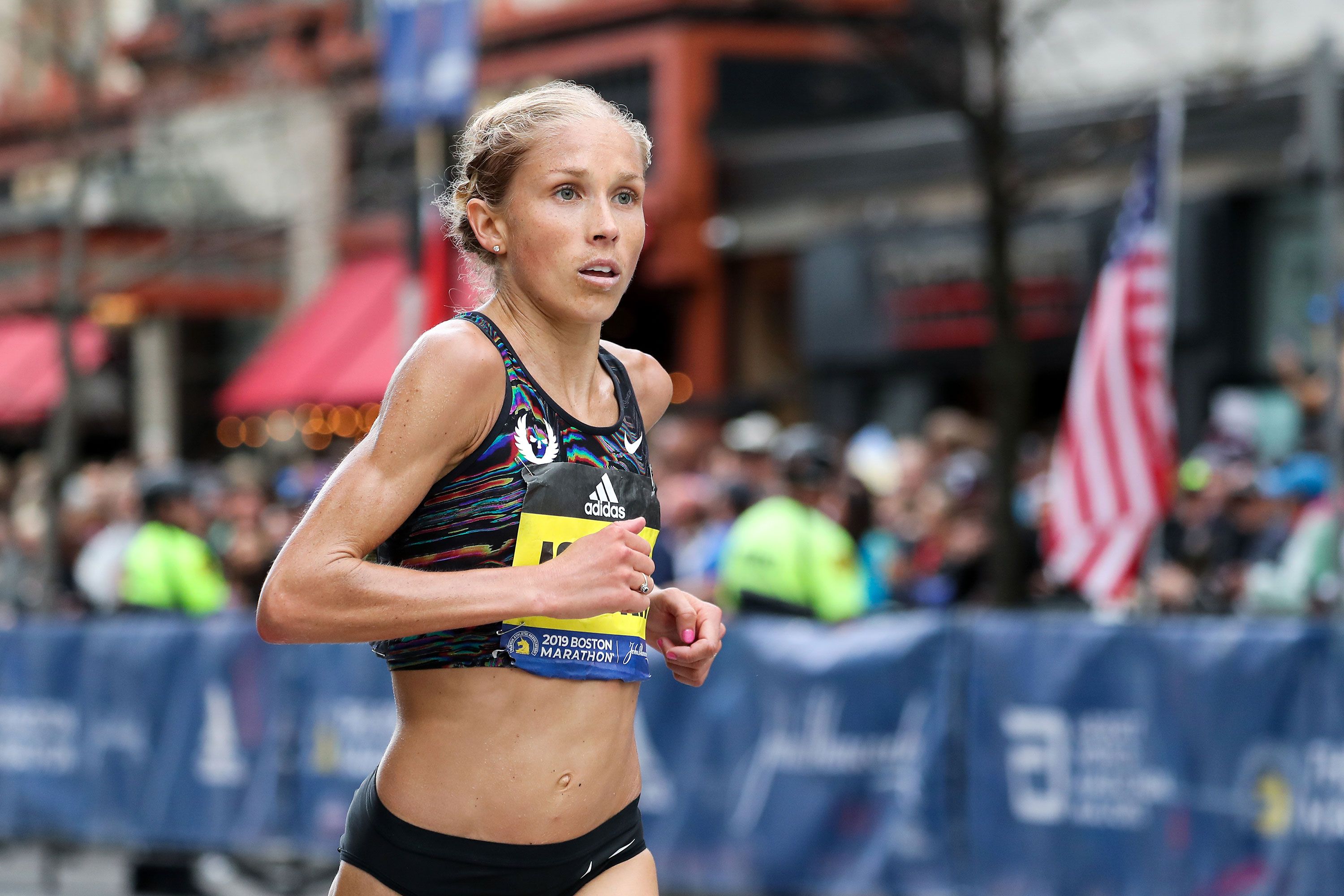 Emily Sisson is a runner not a lot of casual fans of the sport would know, but I can assure you she has been knocking on the door of marathon stardom for some time. In 2019, Sisson had a major marathon breakthrough after she ran 2:23 in her debut at the London marathon, good for a 6th place finish. Sisson has also had success with the half marathon with a personal best of 1:07.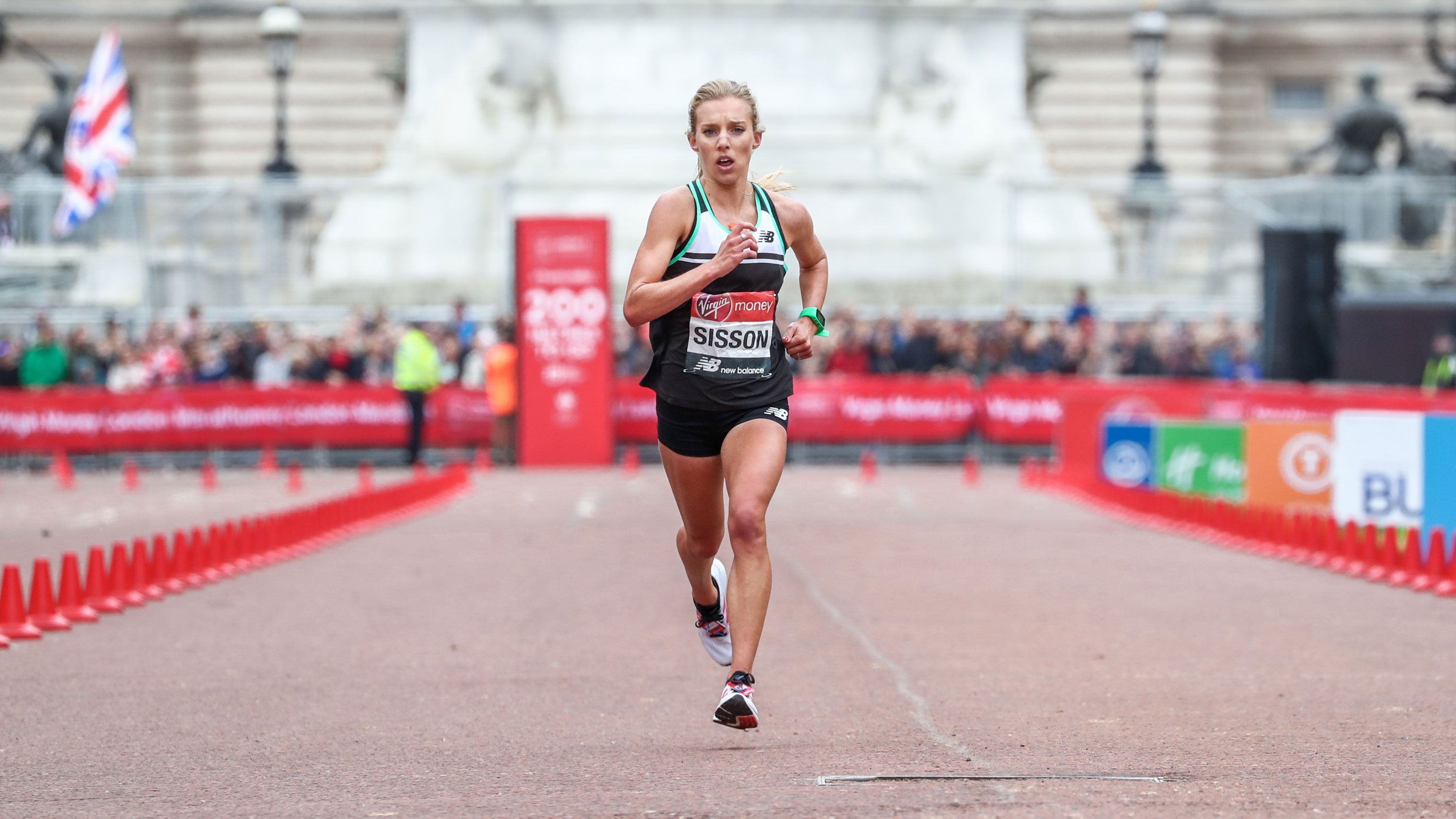 Also a relative unknown, Kellyn Taylor runs with the NAZ Elite group in Flagstaff. In 2015 Taylor put herself on the map with a 6th place finish in the Houston Marathon. To follow this up, Taylor impressed with a 6th place finish in the 2016 Trials. Since, Taylor won the 2018 Grandma's Marathon in 2:24,  finishing 4th in Prague in 2019 and 7th in New York. Taylor recently tied for first at the Arizona Half.
Other notables: Aliphine Tuliamuk, Stephanie Bruce, Lindsay Flanagan, Allie Kieffer, Sarah Sellers, Sally Kipyego, Roberta Groner, Becky Wade.
Where the women's race is really wide open, the main contenders on the men's side is smaller group. Defending Champion, Galen Rupp is the clear favourite for the event. Rupp has a golden resume. This includes a silver medal in the London Olympics 10,000, the Olympic Trials win in 2016 and his bronze medal in the Rio Olympic Marathon. Since Rupp has also posted some pretty good results including finishing 2nd at the 2017 Boston Marathon, winning the 2017 Chicago Marathon, winning the 2018 Praha Marathon, and finishing 5th at the 2018 Chicago Marathon. Rupp has not had his challenges however, surgery and injury issues have kept the super star off the racing circuit for some time and the controversy around Alberto Salazar likely has not helped. Having said this, Rupp sports the fastest personal best in the field at 2:06 and recently ran a 61 minute half to win the Mesa Half.
Jared Ward is the most consistent competitor in the men's race and is looking to return to his second Olympics. Ward, who finished 3rd in the 2016 Trials, has seen his career take off since that result. This began with his 6th place at the Rio Olympics and was followed up by a 10th place at the 2017 Boston Marathon and 12th at the 2017 New York Marathon. After a brief injury bug, Ward finished an impressive 6th at the 2018 New York Marathon and in 2019, finally broke 2:10 with a 8th place and 2:09 performance at the Boston Marathon. This result was quickly followed by a 6th place at the 2019 New York Marathon. Expect another solid performance from Ward who just ran a good half marathon preparation race in Houston.
You may know him from his 7th place performance at the 2019 Boston Marathon, but NAZ Elite athlete Scott Fauble, is not a one hit wonder. Fauble is actually a popular pick for this year's Olympic trials and ran the second fastest marathon by an American in 2019 with a 2:09. Before putting himself on the global running map with his Boston performance, Fauble finished 7th at 2018 New York City Marathon prior to debuting at the 2017 Frankfurt Marathon in a time of 2:12. Expect Fauble and Ward to run similar races at the trials, both with an exceptional shot to make the team. Fauble sports a personal best of 2:09.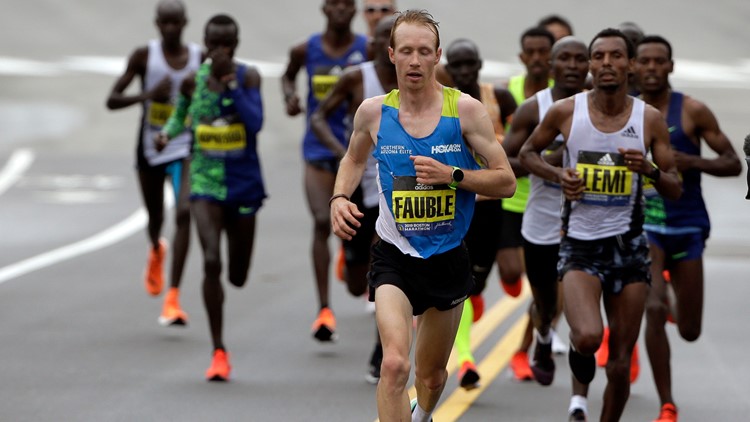 Whereas Fauble ran the second fastest American time in 2019, Leonard Korir ran the fastest – in his debut. The front running, hard hitting American debuted last fall in Amsterdam where he placed 12th, yes 12th, with a time 2:07. Beyond the marathon, Korir has had an illustrious career. The 33 year-old is a world class cross country runner and a 59:52 half marathon runner. While he is strong from running a lot of cross country, Korir has never run an non-paced and/or hilly marathon which could be a factor. Still, expect Korir to be one of the first to make a move at these Trials.
The presence of Bernard Lagat looms large over the Olympic Trials Marathon. Lagat is a monster in American Track and Field and a five time Olympian as well as an Olympic medalist. After beginning as a 1,500M and 5,000M runner, Lagat has brought his talents to the marathon in recent years. In 2018, Lagat debuted at the New York Marathon running to an 18th position, but last year took a major step forward at the distance running 2:12 in Australia. It will be interesting to see if the 45 year old has one more Olympic berth in the legs.
Jim Walmsley is a true wild card in this race. Initially written off by many, Walmsley has been putting in work over the last few months to get his legs in marathon shape. For those who may not know, Walmsley is the best American ultra runner, by miles. Now he is looking to bring his skills over the long distances to the roads of Atlanta. Walmsley has never raced a traditional marathon, but do not let that fool you. In order to qualify for the race, Walmsley snuck in a 64 minute half marathon at Houston to gain the standard for the Olympic Trials. If you want to read more about Walmsley the New York Times and Sports Illustrated both did amazing in-depth features.
Other notables: Parker Stinson, Matthew Llano, Scott Smith, Elkanah Kibet, Connor McMillan, Ryan Vail, Chris Derrick, Martin Hehir, Dathan Ritzenhein, Abdi Abdirahman, Shadrack Biwott, Timothy Ritchie.
The Story Lines
Shoes, Shoes, Shoes
Unless you've been living under a rock or don't follow elite running at all, you have heard about the shoe debates, show controversy, and shoe wars that have seemed to capture distance running across the world. Although I won't go into the full shoe debate, in short, there is a lot of worry that Nike athletes will have a distinct and unfair advantage in terms of technology at the trials. After all, Nike athletes will be able to sport the AlphaFly Next% at the trials. Having said that, it seems like other brands have responded, and lead by Saucony, the playing field is certainly more level than that last couple of years.
Still, there will definitely talk about shoes. For example, if Lagat, Rupp and Korir are the top 3 men, there will be a lot of conversation around footwear as they are all Nike athletes. However, it is also entirely possible that Rupp, Ward (Saucony) and Fauble (Hoka) are the top three, but lets be honest, shoes will still be the topic of conversation.
But I think enough has been covered on this topic that I can move on. If you need to hear more simply google, Vaporfly debate.
Hills
"Hills for Days" is often an expression that runners use to describe their training, but in the case of this course in Atlanta it may actually be the case.
Essentially, this course features absolutely no flat sections as it is always rolling. Having said that, the hills do not appear to be particularly steep, but will still ensure that the quads are put to the test.
The course itself consists of three  major loops including a long out-and-back on Peachtree Avenue, the final few kilometres then veers of onto a new course with the steepest incline of the race beginning with one mile to go.
For those interested in more course details, Runner's World did a great feature on the course.
Big Fields
In addition to the depth of the fields, the fields are also very very large. This will be the largest U.S. Olympic Trials for sometime with 771 athletes getting the qualifying mark. Of the qualifiers, 511 of these participants are women.
For organizers, this has posed a couple of logistical issues, which I am sure they will deal with adequately.
The first is financial. Organizers promised they would pay for the travel expenses for all of the qualifiers, something which has never been done before. And as you can expect, 771 runners is far more than they were expecting.
More important to the race however, will be the logistical challenge of personalized drinks. As is per the custom at Gold Label Races, athletes have the opportunity to have a personal drink stationed on a drink table every 5K. These drinks, which are a personal concoction of the electrolytes the athletes have practiced with, are usually in groups of six bottles per table with six feet in between each. Let's just say the drink station will run for quite a long way at this year's event. Expect athletes to mark their bottles with flags or colours to make them stand out.Hopefully we have no drink station issues.
Solid Prize Money
There is some sweet prize money on offer for this rendition of the trials.
$60,000
$50,000
$40,000
$25,000
$17,000
$13,000
$11,500
$10,000
$8,000
$5,500
To put this into comparison to Canada, the Canadian Olympic Trials offered 8,000 dollars for the top Canadian, albeit there was more money on offer if they placed in the Open race as well.
Predictions
Here are my predictions for the race. I provide my top 3, plus a darkhorse (who is someone I did not preview).
Women
Sarah Hall – she is on fire recently and it will stay that way. Hall is a smart racer.
Desiree Linden – ever consistent. Linden will make the team again.
Emily Sisson – will make her first Olympic team and continue on the road to marathon stardom.
Darkhorse: Aliphine Tuliamuk –  the NAZ elite runner that nobody is talking about will make an impact on this race.
Side note: If Hasay finishes, I think she will make the team, but injuries have plagued the super star recently and she recently DNS'd in Houston.
Men
Galen Rupp – will defend. His 61 minute half gave me confidence.
Jared Ward – Mr. consistency will run a solid race. Expect people to key off of Ward.
Scott Fauble – it will be tight, but his experience and success in non-paced races will make the difference.
Darkhorse: Dathan Ritzenhein – battles with injuries but never count him out. Unfortunately, a lot of people seem to have.
Side note: Korir will be tough to beat, but I chalked this up to experience.
I want to hear from you and hear your predictions. Follow and Tweet me @AndersenRuns.
---
Thanks for reading!