Wow. What a weekend for Canadian running. And running running across the globe.
For Canadian fans, we saw two national records and one near miss. These performances were accompanied by many personal bests in all distances from Canadian athletes.
We will get to the Canadian athletes in a bit, but let's first go over the overall winners.
The men's marathon results were like so: 1 – Kelkile Gezahegn (ETH) in 2:08:36; 2 – Bronsa Dida (ETH) in 2:10:37 ; 3 – Amanuel Mesel (ERI) in 2:11:04; 4 -Benson Seurei (BRN) in 2:11:51; 5. Stephen Scullion (IRL) in 2:11:52.
The women's marathon results followed like so: 1 – Askale Merachi (ETH) in 2:23:29; 2 – Biruktayit Degefa Eshetu (ETH) in 2:24:47; 3 – Malindi Elmore (CAN) in 2:24:50; 4 – Meseret Belete (ETH) in 2:24:54; 5 – Bekelech Gudeta (ETH) in 2:29:22.
The men's half marathon results followed with: 1 – Jemal Yimer (ETH) in 59:25; 2 – Bernard Ngeno (KEN) in 59:26; 3 – Shadrack Kimining (KEN) in 59:27; 4 – Philemon Kiplimo (KEN) in 59:28; 5 – Abel Kipchumba (KEN) in 59:35; 6 – Geoffrey Koech (KEN) in 59:36; 7 – Gabriel Gerald Geay (TAN) in 59:42; 8 – Shura Kitata (ETH) in 59:47; 9 – Andamlak Belihu Berta (ETH) in 59:52; 10 Jake Robertson (NZL) in 1:00:12.
Other notables included: 11 – Jared Ward (USA) in 1:01:36; 15 – Rory Linkletter (CAN) in 1:01:44; 31 – Cameron Levins (CAN) in 1:02:14; 41 – Tristan Woodfine (CAN) in 1:03:30; 51 – Phil Parrot-Migas (CAN) in 1:03:53; 76 – Chris Balestrini (CAN) in 1:06:03; 78 – Adam Hortian (CAN) in 1:06:28.
The women's half marathon results ended like so: 1 – Hitomi Niiya (JPN) 1:06:38 NATIONAL RECORD; 2 – Brillian Jepkorir (KEN) in 1:08:08; 3 – Caroline Kipkirui (KEN) in 1:08:13; 4 – Gotytom Gebreslase (ETH) in 1:08:19; 5 – Dorcas Tuitoek (KEN) in 1:08:24; 6 -Ruti Aga (ETH) in 1:08:25; 7 – Caroline Rotich (KEN) in 1:08:53; 8 – Stephanie Twell (GBR) in 1:08:55; 9 – Sarah Hall (USA) in 1:08:58; 10 – Geleta Burka (ETH) in 1:09:05.
Other notables included: 12 – Molly Huddle (USA) in 1:09:34; 16 – Becky Wade (USA) in 1:09:40; 17 – Natasha Wodak (CAN) in 1:09:41; 23 – Rachel Cliff (CAN) in 1:10:13; 25 – Sarah Inglis (GBR) in 1:10:24; 35 – Emily Setlack (CAN) 1:11:40; 38 – Kinsey Middleton (CAN) in 1:12:15; 69 – Julia Howard (CAN) in 1:16:09; 75 – Melissa Paauwe (CAN) in 1:17:06.
You can watch the full race here.
Now that you are caught up, here are my seven takeaways.
Elmore amazes.
What can I say. Malindi Elmore is a boss. Aside from the spectacular 2:24, the fact that she ran in the 2004 Olympics in Athens over the 1,500M, moved to triathlon, had two kids, returned to  running "just to try" the marathon, debut at 2:31, and THEN ran 2:24 is simply amazing.
Now, Elmore is the Canadian Record Holder for the Marathon, and at the age of 39, broke the previous mark by two minutes. Oh and a third place finish (winning $10,000) does not hurt either.
When I spoke to Elmore in the October before the Canadian Olympic Trials, she stated that her "goal will be show up fit, healthy and ready to knock off the Olympic qualifying standards.  I want to set myself up is the least ambiguous situation possible heading into the final selection phase in May next year." I think all of those goals are accomplished (but I will talk more about the Olympics later on).
Setting a Canadian record is no easy task. Just ask Reid Coolsaet and Eric Gillis, but the fact that Elmore made this achievement in just her second marathon is all the more amazing. Her splits were also a thing of beauty. Check out more on her Strava.
I think Elmore would tell us that her accomplishment was made even sweater that she now, unlike 2004, has two young boys that she will share this moment with for years to come. As she told me back in October: "If I made a second Olympic team I would feel like it was such an amazing collaboration between my core team (my husband/current coach Graham Hood, my longtime coach/advisor Mike Van Tighem, and friend/advisor Trent Stellingwerff) as well as my parents, children, friends, community etc., who have all been 100% on board with this 'project'.  I feel like this goal is less about me personally making a team and more about the role of team support and making a comeback in a pursuit where dreams had been already laid peacefully to rest."
What is next for Elmore? Most likely rest and then a build looking forward to Tokyo 2020. Don't be surprised if Elmore makes a couple Canadian appearances at the Sun Run, Ottawa 10K, the World Half Marathon Championship and/or the Manitoba Half Marathon to defend her Canadian Half Marathon Championship title.
Malindi, you inspire us.
Wodak dazzles
Over an hour before Elmore crossed the line, Natasha Wodak was making history of her own. Despite saying pre-race in an Instagram post that it would likely not be her day, Wodak also set a Canadian record in the half marathon. In doing so, she became the first Canadian to run sub 1:10 for the distance, 1:09:41 officially.
In my preview, I mentioned that Wodak could have a good run and that she could potentially get the Canadian record. Having said this, the last few months have been no picnic for Canada's most consistent distance track athlete. Wodak admittedly had a tough race at the World Championships in Doha before finishing 4th at the Canadian Cross Country Championships.
After taking a couple months to reset and recuperate, Wodak showed how fit she actually is with her race in Houston. If I recall, Wodak has been chasing this elusive Canadian monument for a couple years now at Houston. In last years race, anticipation was running high that both Wodak and Rachel Cliff (the previous record holder) could break the record. Perhaps the reason Wodak was able to achieve the mark this year is due to the fact that there were no expectations entering the race.
Like Elmore, Wodak's splits did nothing to hinder her. Although there was a small positive split, her split times (as shared below by Trent Stellingwerff) were perfect for an ambitious, record-breaking performance.
What is next for Wodak? Expect to see her at the Pan American Cross Country Cup before hitting the track in the spring where she will look to return to the Olympics in the 10,000M.
Oh and no small feat., she was recognized my Strava.
Linkletter Impresses
A name that slipped off the radar for many Canadian running fans, including on Twitter where he was not included in the "notables" by some pundits, was Rory Linkletter. Linkletter, a Canadian who lives and trains in the states, is not as widely known by Canadian fans, made his marathon debut in the Fall at the Canadian Marathon Trials.
Although his debut in the full was likely not what he expected, his debut in the half was almost perfect. In only one race, Linkletter made the jump from "debut" status to the second fastest Canadian of all time.
During the race broadcast Linkletter can be seen many times, riding at the back of an unusually large pack (and out of the wind) with the likes of Jared Ward and Cam Levins. As the pack began to dissolve in the final hundred metres, Linkletter stayed in the middle of things, finishing in 15th in a time of 1:01:44. Linkletter missed the current Canadian record by 16 seconds.
It is safe to say that Linkletter is happy with his performance and has, if he runs a spring marathon, his eyes set on that 2:11:30 mark to get into the Olympic games. As he told me in the fall: "I believe I can do this, I will run well enough to be an Olympic caliber marathoner."
Personal Bests All-Around
Aside from the three profiled before, a host of Canadian athletes ran personal bests in Houston.
To start them off, Anne Johnston crushed her personal best this weekend, taking a full SIX MINUTES off her marathon personal best to run 2:36. The Newfoundland and Labrador native is also the Telly 10 miler course record holder. I believe this performance also puts her second all time for N&L women in the marathon.
Cam Levins was the second Canadian male in the half marathon and ran with Rory Linkletter for the the majority of the race. Levins lost contact in the closing kilometres to finish just outside the 62 minute barrier, finishing at 1:02:14 and still clocking a personal best. Levins finished 30th.
Not on the elite start list but not to be missed was Tristan Woodfine. Woodfine, who owns a 2:13 marathon personal best, knocked off his personal best by over 70 seconds, running 1:03:30. Woodfine finished 41st. It was also announced last week that Woodfine, along with Canadian men Ben Preisner and Evan Esselink, will be running London in April.
Phil Parrot-Migas (51st) and Kevin Coffey (73rd) also set personal bests. Parrot-Migas took off around two minutes running 1:03:53 and Coffey took off three seconds running 1:05:53. According to the splits it looks like Coffey, a Mile2Marathon coach,  really went for it, but just didn't quite have legs on the day.
Emily Setlack (I was right in my preview that they got her nationality wrong) finished 35th in the women's half marathon and ran a personal best of about 50 seconds for a 1:11:40. Setlack, like Elmore, had an amazing 2019 campaign and it looks like that momentum is continuing into 2020.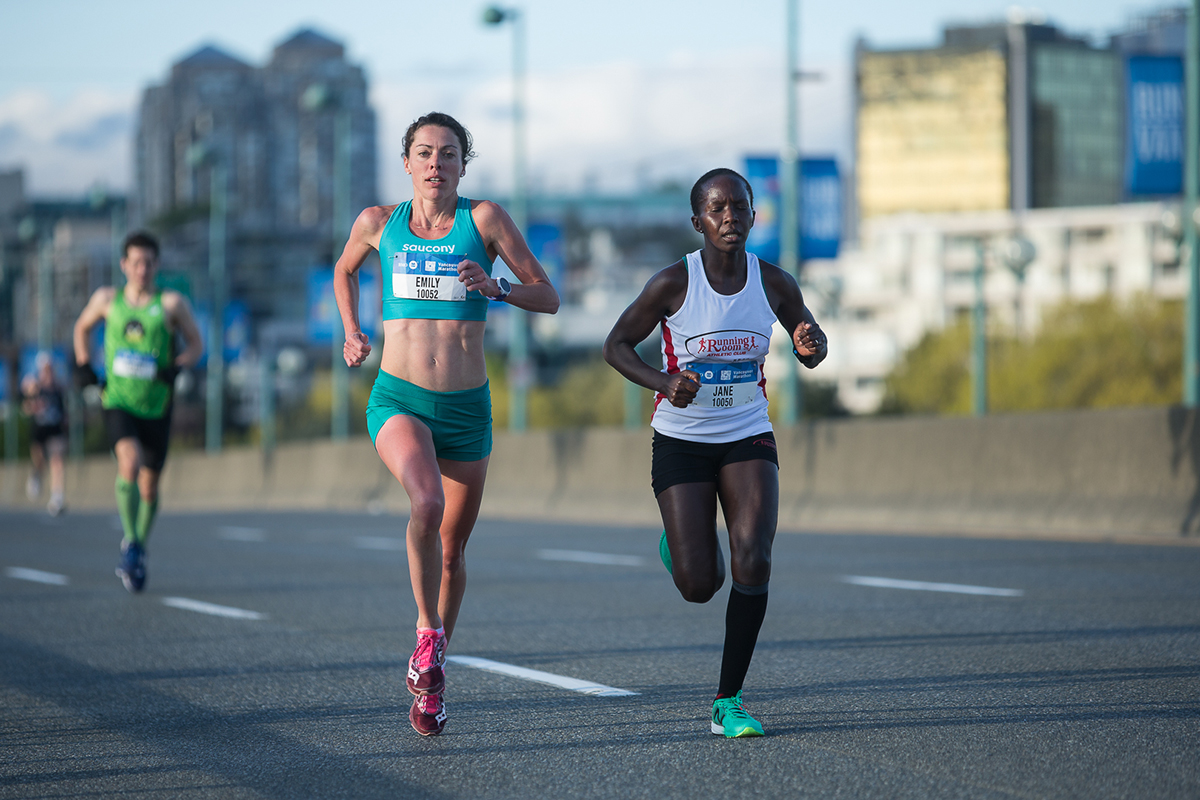 Kinsey Middleton took 40 seconds off her personal best running 1:11:48 good for a 37th place finish. This result is a good bounce back from the Idaho based Canadian. It was announced last week that she will be running London in search of the Olympic standard this April.
Honourable Canadian, and an actual Scot, Sarah Inglis also ran a massive personal best taking over two minutes of her time to run 1:10:24.
Stiff Competition for the Canadian Marathon Team
The Houston Marathon actually muddied the waters of who will be on the Canadian Marathon Team when the plane takes off for Tokyo on both the women's and men's side.
For Athletics Canada, the process of selecting the women's team has become MUCH more complex. For the first time in years (ever?) Athletics Canada will have to select three out of four Canadian women to represent the country over the marathon distance. Dayna Pidhoresky, due to the fact that she already won the Trials and has the standard is in. For the others, it will be an intense waiting game with pressure to show fitness, intense. In terms of times run within the qualifying window, Malindi Elmore (2:24) and Rachel Cliff (2:26) are faster than Lyndsay Tessier's 9th place from the World Championships in Doha. Having said that and as Dylan Wykes rightly pointed out to me, it is really an accomplishment to finish 9th in the World in the Marathon and that must be considered, especially since the Olympic marathon is a championship-style event.
An added element to all of this is we don't know who (if anyone else) will achieve the standard. Remember that Olympic veterans Lanni Marchant and Krista Duchene will want to have a say in matters and Kinsey Middleton and Emily Setlack seem both on the cusp of a breakthrough.
Good luck Athletics Canada.
Although the picture seems much clearer for the men, with only Trevor Hofbauer holding the standard, the waters could get muddy here as well. Just from the performances of Tristan Woodfine and Rory Linkletter this weekend in Houston, there are two potential qualifiers. At the same time, Ben Priesner and Evan Esselink, both 62 minute guys, are also set to run the fast London course. The giant in the room and Canadian Record Holder, Cam Levins has yet to officially declare where he will start, Rotterdam is likely, which sets him up for a fast time as well. Whereas veterans Reid Coolsaet and Dylan Wykes can certainly not be discounted – Wykes is running Boston and Coolsaet may follow suit (where a top 10 gets you the standard).
If you want to run fast in January, run Houston.
Houston is a fast course. Although it may have been punctuated by the VapourFly's the relative flatness of the course, coupled with the fields it draws, the relatively calm and mild weather makes it perfect for runners, of all abilities, to run fast.
Take the Toronto Waterfront Marathon half for example (which by the way is a super fast race in itself). The winner of the men's half was Ben Preisner in 1:03:08. At Houston, 36 athletes went inside that mark. For the women, the winning time at the Toronto half was 1:15:12 from Brittany Moran. In Houston, 60 women went inside the time.
All that to say, to run fast, head to Houston. Understandably, prize money is another draw, and if the field is too fast, Canadian athletes may not have the opportunity to make their living.
Instead, Canadian's may opt to run Arizona Rock and Roll (as a few did), Robbie Burns in Burlington, Ontario, or keep their powder dry.
Calum Neff is the weekend's unsung hero
As discussed at points in the broadcast, Canadian marathoner Calum Neff was raising money for the Houston Marathon foundation at this year's race. Neff, who is an elite runner himself and holds the World Record for fastest marathon pushing a stroller, raised money by passing as many athletes as possible. The Foundation supports scholarships and local young people across Houston.
Neff's time for the half marathon was 1:09. It's not clear how many runners he passed. For more information, head over to Neff's website.
---
Thanks for reading! To stay up-to-date, follow me on Twitter.