Although the men's field for the Ottawa 10k does not feature a former world record holder, elite athlete coordinator Manny Rodrigues has certainly brought two very good fields together. Is it the strongest of all time, maybe. That will be determined, in my eyes, of whether the course record falls. It will be interesting to see what the new course (previewed in my women's race preview) does to the times of the elite athletes.
My Goal
One person I am hoping the new course helps, is myself. Before getting to our spectacularly quick friends, I feel I should first preview my race. My PB for the 10k is 38:59, which I ran this year in January when the temperature was minus 25 degrees. I certainly feel I can improve on this mark.
For me there are a few factors I need to have a good race: the weather must be cooperative (windy is ok, just not hot/humid), I need to stay relaxed and confident within myself, and I need to have a good three hours before the race where I can snack, use the washroom and be in the coral without having to rush or stress. I have had an interesting build. I got injured in March and changed from targeting the full marathon, to the 10k. I have only had two workouts, both of which I have smashed out of the park. And my milage has been much lower than usual, so fingers crossed.
With my goal of 37:30, I hope to run fairly even splits (3:45/k) and of course if I can go faster, I will. My hope is to slip into a pack traveling about my speed and turn my brain off. Often, I tend to think too much.
Anyways, enough about me. I will recap my race in the blog post after or you can follow me on Strava.
Now, let us move on to the elite field.
The East African Elite
Mohamed Reda (Morocco) – PB of 27:59. Reda is a solid athlete. He sports PBs from 13:42 (5,000) to 60:38 (21.1) to 2:09 (Full). His range is impressive. Although he hasn't had an outstanding year to date, he did finish 3rd in Ottawa last year so knows what to expect. He also finished 1st in Beirut and 11th in Tokyo and Chicago.
Abderrahmane Kachir (Morocco) – PB of 27:50. He also sports a time of 60:21 for the half. Kachir has only raced twice this season, running 63:09 and 63:10 for two half marathons in Morocco. In fact, based on IAAF records, this will be his first career sanctioned race outside of his native country, something which will certainly be an interesting experience for the 26 year old.
Moses Kibet (Kenya) – PB of 28:26. Kibet also has an impressive half marathon PB of 59:58 set in China only one month ago. His results this year have certainly shown progression and it will be interesting whether it will continue in the Ottawa 10k. Throughout his young career, Kibet has rarlely finished outside the top 3 in races and will be cool to see him continue to develop on Ottawa's roads.
Wilfred Kimitei (Kenya) – PB of 28:02. Like so many in the race, Kimitei has an impressive range of PBs from 13:12 over 5,000 to 59:40 for the half. Kimitei has only run one race this year, finishing 5th in a half marathon. He is the course record holder of the Karlovy Vary Half Marathon in the Czech Republic.
Emmanual Kipsang – PB of 27:47. Kipsang is a quick athlete. He has run 13:08 over 5,000 and 60 minutes over the half marathon distance. Although his placings have not been superb this year, he has run 62 and 63 minutes for two half marathons in April, showing that his form is coming around. In 2018 he found the rostrum on four spate occasions for the half marathon, running in the 61 minute range on each occasion. He also debuted in the marathon, running 2:33.
Otamne Nait Hammou (Sweden / Athlete Refugee Team) – PB of 30:27. Although he is not the quickest in the field, I felt it prudent to preview Nait Hammou. He is officially a member of the athlete refugee team and his story is probably the best in the field. He competed in Denmark for the World XC this year and with the refugee team for the very first time. He fled his native country of Morocco alone, and after a few years in France, moved to Sweden. Make sure to support this athlete across the course!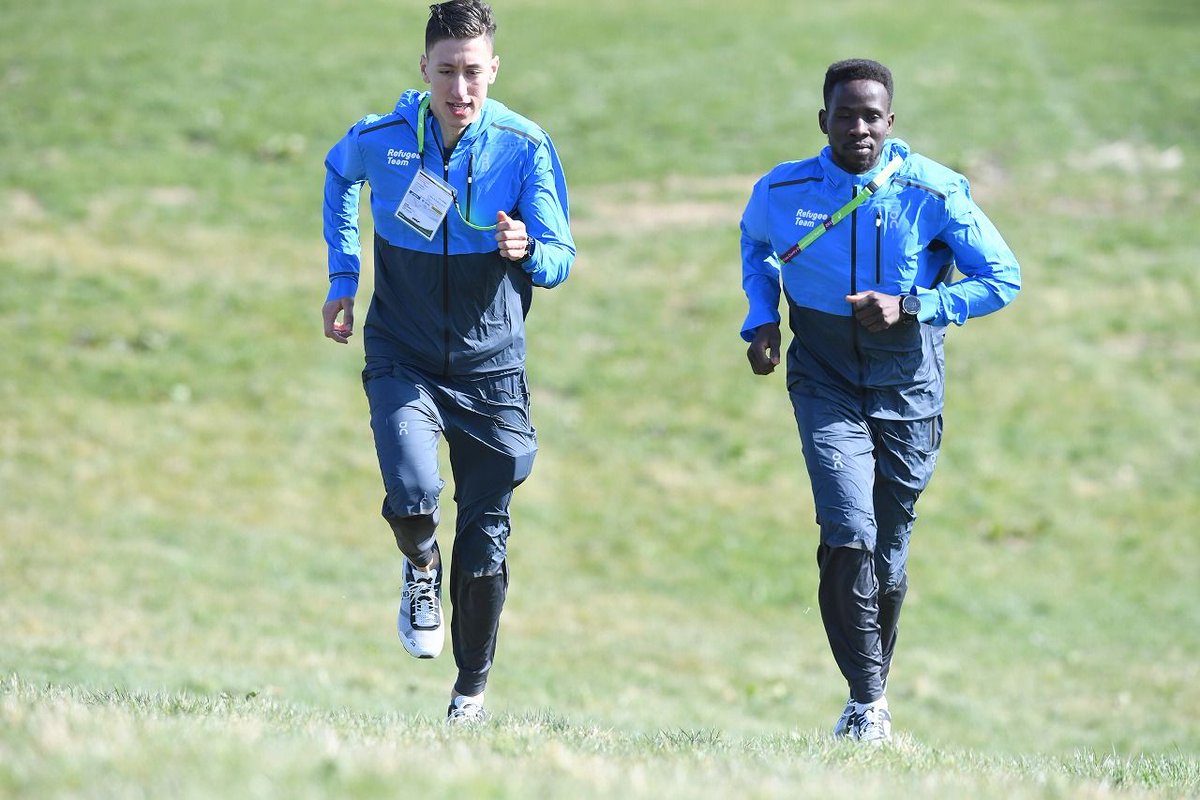 Mohammed Ziani (Morocco) – PB of 27:28. Ziani loves Ottawa and is the class of this field – he also completes to Moroccan trifecta on Manny Rodrigues' start list. In 2016, Ziani won this race in supreme fashion, stopping the challenge of the Kenyans and Ethiopians who seemed to team up against him. Last year, Ziani ran in Ottawa, but struggled with visa issues making him a last minute arrival and finishing in 4th. Hopefully this year, Ziani will arrive uninterrupted and ready to go to work. He sports PBs of 60 minutes for the half and 2:10 for the full.
The Canadian Elite

The men's Canadian challenge for the past few years have looked/felt like this: Gillis, Coolseat, Gillis, Coolsaet, Gillis, Coolsaet, and then in 2018 – Esselink. This year question marks look large as to who will take the reigns of Canadian distance running. This year, Coolsaet is running the marathon (very excited about that) and Gillis is not on the start list. Also not on the line will be Ben Flanagan (reigning NCAA 10k champ), Justyn Knight, Mo Ahmed, Luc Bruchet (injured) and Cam Levins (DNS in London with a calf injury). So who is on the start line? Some pretty solid Canadian talent, lead by defending Canadian champion Evan Esselink.
Here are some of the names to watch:
Chris Balestrini – PB of 29:25 (set on the track). Balestrini is a PhD student at Western University and sponsored by New Balance. He sports a 5,000m personal best of 14:19 and a PB or 65 minutes for the half marathon. Balestrini has shown fitness of late and has been a prolific racer this year. He ran 2:22 for the Rotterdam Marathon, 67 minutes for the BMO Half in Vancouver and 65 minutes in Houston.
Conor Black – PB of 30:06 (set on the track). Black is a great story – after a year of injury he finally won the USports Cross Country title in his final year of eligibility. Black is now making his first start at the Canadian 10k road championships. Last month, Black set his PB for the 5,000 running 14:22. He should be an interesting wild card for this race, but it will certainly be a learning experience.
Evan Esselink – PB of 30:30 (28:55 on the track over 10,000). Esselink is the defending champion, but even when he won last year, he finished 1 minute slower than Eric Gillis did the year before. Esselink is a great talent, and since he has moved to Vancouver to train, has run some smashing times. After running an amazing 62 minute half marathon in Houston in January, Esselink got injured and had to WD from the World XC Championships. I suspect this race will be a measuring stick for our defending champion to test his fitness against some of Canada's best. Do not be surprised if his experience brings him the win. Esselink has PBs of 13:59 over 5,000 and 3:48 over 1,500.
https://www.instagram.com/p/Btrk0Kvh4-L/
Justin Kent – PB of 29:54. Kent is a runner that not a lot of Canadians are aware of, but he is developing into one of the best long distance runners in the country. In his vlogs and on Strava, Luc Bruchet has called Justin Kent the fittest guy in their training group, and the results certainly show it this year. Ken has a win at the very competitive Vancouver Sun Run and a second at the St. Patrick's Day 5k. He also ran a solid leg for Canada at the World XC Championships in March. Expect Kent to go well this weekend.
Charles Philbert-Thiboutot – PB of 32:26, but it does not do the quality of his running any justice. Philbert-Thiboutot (aka Chuck or CPT) is an Olympic finalist for 1500m and is certainly one to watch. Can he be competitive over the 10k distance? That remains to be seen. Over 1,500 he has run 3:54, and over 5,000 has run 13:33, both impressive marks. Having not raced this year, CPT is the wild card in this race.
Tristian Woodfine – PB 29:54. Woodfine has had a great last few months. He was second in the Boxing Day 10 miler going under the previous course record time. He then went to Houston and ran 2:15, smashing his PB in the marathon. In April he set a PB for the 8k with his win at the Spring Run Off in Toronto. Not too shabby. Woodfine is a solid athlete, a paramedic, and avoids social media. Woodfine also has experience in Ottawa, as he was top Canadian and 8th place in the marathon last year. He sports a half marathon PB of 66 set in Barcelona.
Dylan Wykes – PB of 29:57 (28:12 on the track). Wykes is the most seasoned competitor in the field and if it is a tactical race, could surprise. It is well known he probably will not achieve his PB form but a 30 minute 10k, like he ran two weeks ago at the Sporting Life 10k could do the trick. Wykes' PBs are impressive: 2:10 for the marathon, 1:02 for the half, and 13:43 over 5,000. Plus, Wykes is a former Olympian and third fastest Canadian marathoner of all time. It will be interesting to see if the veteran can give the others a run for their money.
The Verdict
Can the course record go down? I doubt it. Ziani is the only guy capable of running near the time, and would still require a PB. A course record would require the perfect weather and enough men left in the lead pack around the 8k mark.
Who will win? Ziani is the favourite for sure, but unlike the women's field, one competitor isn't head over heels better than the rest. This is a Morocco vs. Kenya race – my bet is a Kenyan comes out on top.
My podium? 1. Wilfred Kimitei 2. Mohammed Ziani 3. Moses Kibet
Can the Canadian record go down? No. Paul McCloy's record of 28:17 will live to fight another day. I won't be surprised if Woodfine, Kent or Esselink give the East Africans a run for their money however, especially if the race is more conservative than last year.
Who will win the Canadian Race? Justin Kent. Based on recent performance, Kent will be the top Canadian.
Canadian podium? 1. Kent. 2. Woodfine 3. Esselink. I was really tempted to put Wykes as number 3, but even coming off injury, I think Esselink being in full training mode will take the spot. Don't be surprised if Wykes is in there however.
Dark horse (who I didn't preview)? This is tougher than the women's preview. After the guys mentioned above the Canadian field is not the deepest, so I have decided to go with Benjamin Workman, the 21 year old Canadian. Workman has a PB of 30:57 set last season on the track, so there has been a lot of time for improvement. Workman had a competitive season indoors at USports this year, so the speed is there. He is one to watch, but don't expect a top 3 Canadian placing from the 21 year-old.
Quick Facts
The women will be starting 3:40 ahead of the men this year's gender challenge ($3,000 bonus)
The women's course record is 27:24 and held by Deriba Merga
The prize for the win is $5,000 and goes to 8th place. The winning Canadian will bring home $3,000 and the prize money is 8 deep.
You can access the full 10k Start List here.
Run Ottawa are the event organizers – you can read all about the event on their website.